The gorgeous grounds and unique structures of Rockway Gardens make for a stunning location for an intimate wedding ceremony. Here's what you need to know for planning.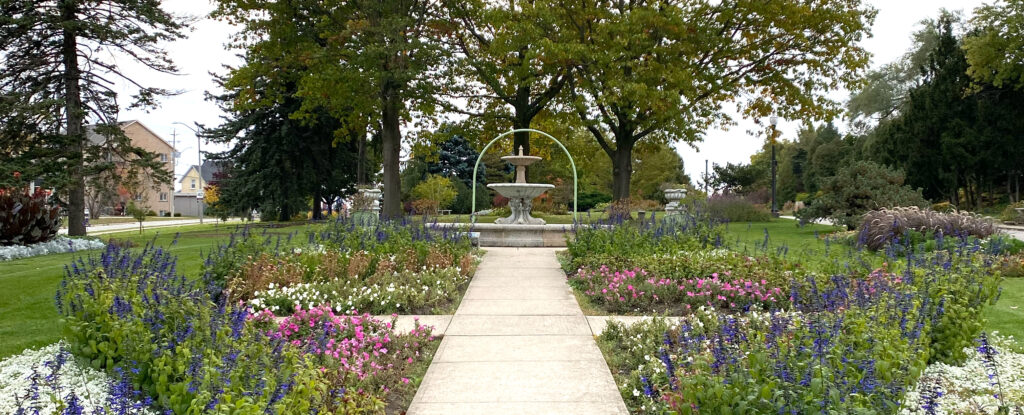 What space can be used at Rockway Gardens?
The gardens are open to the public and can be used by anyone, at any time (any day of the week). All areas of the garden are open to the public and can be considered for your event. The summer months are particularly busy with weddings and prom events so your choice of location may not always be available. There are a few limitations to consider:
Space at Rockway Gardens cannot be reserved. It is a first come, first served arrangement. This includes the Gazebo.
The Gazebo is unavailable on days of gardenKitchener events. A complete list of these dates can be found on our events page, to help with your planning.
The Garden House is not open to the public.
Rockway Gardens grounds are not lit during the evening.  There are no electrical outlets in the gardens.
There are no public washroom facilities or change rooms.
Seating is limited on the grounds.  You should be prepared to provide your own seating.
Parking is limited.  One side of Floral Drive allows parking.  Additional parking is available at the Rockway Senior Centre.
Street noise can be loud as the gardens are adjacent to a major roadway.
Rockway Gardens staff are not available to provide support before, during or after events.
Event space at Rockway Gardens is free – there are no fees charged to event hosts. However, donations to Rockway Gardens are requested and go towards the maintenance of the grounds. Learn more about donations here.
Rules for hosting events at Rockway Gardens
The following rules must be followed by all event hosts and visitors, when on the Rockway Gardens property:
Use masking tape to hang decorations. Do not use a hammer, stapler or another method that could damage any structures, trees or plant life.
Please do not walk through the flower beds, pick flowers from the gardens, climb the trees, or climb on/climb into the fountains. We kindly ask that visitors be respectful to the grounds and other visitors.
Confetti is not allowed. Do not use any non-biodegradable material including plastic or silk petals.
Do not operate BBQ equipment or power generators of any kind.
Candles, tiki torches, or open fires of any kind are not allowed
Canopies, Tents or other temporary structures are not allowed
Please remove all decorations, chairs and other items used for your event.  The grounds should be returned to their original state.
You are responsible for removing all trash/recycled material.  There are trash containers throughout the gardens available for your use.